7420 Westlake Terrace in Bethesda has an incredible 15th floor view! Is that view enough to get it sold?
View more of this property on the virtual tour: https://mls.truplace.com/property/1695/78760/

Every house has a story! 2018 was no different.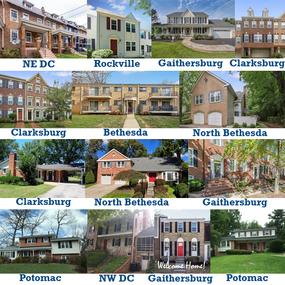 People always ask, "How is the market?". Well, how was the 2018 market? For me and my clients, there were homes sold over list price, investment properties purchased, first time homebuyers outnumbering down-sizers, a couple estate sales and a few rental units rented. From a single family house in NW DC to a bank owned purchase in Clarksburg, my transactions were focused mainly on the NW corridor of the city, quite close to 270. For my sellers, I achieved a 99.9% close price to list price ratio and a 98.2% close price to original list price. My buyers paid 98.8% of list price but received 1.7% back in seller concessions.
You should know that there is no National Real Estate Market. Every neighborhood and every house has its own story. We can pull generalities from the zip code statistics which are helpful to determine the price we should buy or sell a home. These stats pulled from MRIS Smart Charts give us good bench marks to help with list prices for both selling and buying. Schools play a big part in the valuation process. But the condition pays a huge part in valuations. Homes that have updated kitchens, bathrooms and fresh paint, sell quicker and for more money no matter what the neighborhood. Homes in Potomac 20854 this year sold for 95.9% of original list price with an average of 92 days on market and homes in Gaithersburg 20878 sold for 98.1% of original list price and averaged 63 days on market. North Bethesda homes sold at 97.8% of original list price and averaged 68 days on market.
If you want the stats for your neighborhood or want a no obligation discussion on what will make your home sell for the most amount of money in the shortest timeframe, contact me. I am always available to discuss real estate. If you are thinking of neighborhoods to move, and you want price ranges and a daily email summary of what is available, I can do that for you. Contact me at 240-620-4783 or dengel@towerhillrealty.com
To check out another view of homes I have helped clients buy, sell and rent, take a look here: https://www.pinterest.com/davidbengel/sold/
11208 Stephalee Ln Rockville MD 20852 is SOLD. A one of a kind home in Luxmanor.
This was a rare opportunity to own a one
of a kind of a home in Luxmanor. This is a well maintained and spacious estate with dozens of extra features and amenities. The Gourmet kitchen has room at the island for eating with a beautiful breakfast room looking out to the impeccably manicured landscape. The Main level, Master suite is a home away from home with a luxurious bathroom and a custom gas fireplace seating area. The upper level has 5 bedrooms and 4 full baths. The front and back yard has a complete and complex mixture of unusual trees, shrubs, pergola and a flowing fountain. The location is so convenient to all the Best public and private schools in the area. View the youtube videos, the virtual tour and then make an appointment for a personal tour!
13402 Latrobe Ln Clarksburg, MD 20871 sold with 24 days on market to an investor needing a 1031 exchange property.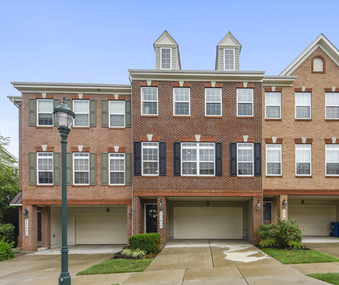 Welcome to a beautifully maintained town home. Only 10 years old and shows like new. This updated 3 bedroom, 2 1/2 bath town home is in a perfect Clarksburg location featuring a large, open floor plan with new hardwood on main level & new carpet on the upper level.
As you walk up from the main entrance, the home opens to a wide open family room/ living room/ dining room combination. Imagine the fun entertaining and watching the big games together in your Clarksburg home.
You will spend lots of time with friends and family in the good as new, gourmet kitchen with a super cool hands free faucet. The kitchen has high end stainless steel appliances, granite counter with ample cabinets, pantry and storage. The balcony ove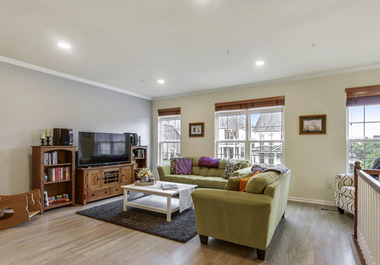 rlooks the backyard and provides a private respite to unwind after a long day. The kitchen has plenty of room for table space or even create another family room since there is seating space at the island with new pendant lighting.
The master suite has a luxurious bathroom with updated granite countertops. Not only is there room for the soaking tub, there is a very sleek looking framless walk-in shower. The walk-in closet provides enough room for two and there is also room for a desk and office area.
The first level includes a two car garage, storage room and a combination rec room/ exercise room with a private patio for your grill. This location provides quick access to 270. It is a great commuter route and just minutes to incredible shopping & schools.
5822 Linden Square Ct. N. Bethesda, MD 20852 is sold. First offer fell through. Second offer received and closed in December 2018.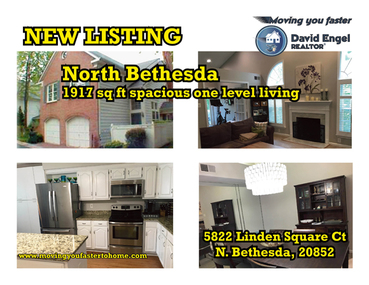 Welcome home to an immaculate condition, end unit, town home with an attached garage. Loads of living space abound in an appealing open floor plan. This home is great for people who need a lot of space (1917 square feet) on one level.
The updates to the kitchen and bath are tasteful and the home shows very well. Enjoy the eat-in renovated kitchen featuring extra built-in cabinets and a large island. Vaulted ceilings are in the huge family room with a cozy fireplace next to the separate dining room.
A private office or den has space for an extra bed or pull out couch. Although, if working out is your thing, there is plenty of room for your equipment. The master bedroom has 2 closets, a balcony & an oversize renovated bathroom. This main level also has a 2nd bedroom, full bath and full size laundry too. There is plenty of attic & garage storage. This is the very best location in neighborhood, only steps to the park. This home is so close to some of the best schools in the county. A short walk to the metro and buses make this the perfect home for the commuter.
Real estate investment opportunity in Potomac, MD
Coming Soon in Potomac is a 4 bedroom townhome suitable for a good rental investment. The best news is there is a qualified tenant that is waiting for a long term lease. The tenant has a stable job and good income. The investment required for the purchase is $265,000. The remainder can be financed. I value the home at $630,000. The listing price is yet to come out. I believe it will be around $650,000. I am looking for one to four investment partners looking to diversiify their portfolio into rental real estate. With all investments comes risk and this deal is not a slam dunk. Here are the numbers: Assumptions: Appreciation rate 2.5%, rent appreciation 1%, expense increases 2%, future selling costs 8% Total return if sold in 5 years $323,316 - 23.30% Total return if sold in 10 years $456,691 - 74.16%
If you want to expand your portfolio and learn more about this opportunity, contact me soon.
You sold that? Move-in un-ready!
A client's attorney contacted me that their client had to get her home listed for sale in MRIS as soon as possible prior to December 31st. This was due to the asset's status regarding Medicaid. The home needed to be listed at TAV, no less or more.
I listed it sight unseen and then the following week her son and I had an appointment to get inside, get the keys and get started on cleanup for the sale. He cancelled, so I went on my own, not knowing what to expect and it was bad - worse than I imagined it could be. Another brother and sister-in-law had been living there and they were hoarders, had pets, and never, ever, ever, cleaned - ever. They were there "thinking" about getting their stuff organized to move out. They were very nice and kind of chuckled about the way the place looked. They also had not been paying the rent, nor the condo fee which left it to the other responsible brother to pay.
A week later and they were still "working on it". They said they would have all their personal belongings out by the next week. Further complicating matters, the home was in Maryland and the rest of the family was in Virginia. In the meantime, I was giving the family updates for which they were appreciative. This went on for several weeks until the responsible brother gave a deadline to clean up and get out. The hoarder brother promptly left and when I say left, he and his wife left and left everything else left in the house.
I was certain I could sell it at this stage, but not at TAV. I was going to get a contractor to front some of the renovation and disposal costs and get it ready to sell. The client had little available money and if she did pay anything I was told it would complicate the Medicaid application for money spent on renovations.
The house was supposed to sell for at least the tax assessed value and, therefore, the MRIS listed price. If the house were in decent shape, the comps were $30,000 over the listed price. In the current condition, it was worth $50,000 less than the listed price which was verified by the first offers coming in. Get the first look as I did from this video link.
The hoarder brother and his wife never came around. The responsible brother came to the house for weeks which turned into months with his wife, kids and a third brother showed up. The cleanup began. They did not want to spend money on an outside vendor and luckily they had the skills to do the work themselves. Over five months' time, the unit became almost habitable. Doing it on their own, the dedicated son and his wife painted the entire unit. They re-tiled the bathroom and refinished the bathroom vanity. They even chopped up the piano because it was going to cost $300-$400 to haul away and dispose. During those first months, we had many showings once we could walk around the mess. No offers came at TAV.
The unit's condition at this point was clean and neat. However, the refrigerator, range, dishwasher, clothes washer and dryer had eventually been removed. There was no flooring except in the two bathrooms. The flooring had to be pulled up and the base under the floor needed to be painted and somewhat fumigated due to the previous pet situation.
I held several general open houses and broker's open houses to attract traffic. At this point in the story, we had a showing that resulted in a full price offer with a $15,000 seller concession. Adding in contractor estimates for finishing the second bathroom and for the renovation of the kitchen plus invoices for appliances, the attorney for the client felt that this would be a very acceptable offer for medicaid qualification purposes and allow the property to be sold at TAV even considering the seller concession. The hard work had paid off.
The last complication was the fact that the unit was previously an MPDU and we had to do an MPDU profit calculation for Montgomery County. I was able to get a document swiftly from the MPDU office indicating that the County waived its right to purchase the property. We went through the profit calculation and the proceeds to the county, about $13,000 would be paid from closing.
Closing was non-eventful and provided a grateful end to this chapter of the family's story. The family was able to sell a shell of a condo unit at TAV with some cash back to the family. This ten-month adventure turned out successfully for all parties. I would say the success was due to one son's dedication and an incredible effort to throw away just about everything in the unit and his ability to paint, drywall and tile just enough for a buyer to come in and see the potential for finishing off the unit themselves.
If you are ever faced with a challenge, please contact me. Not everyone has the skills or time that this family had to clear out and clean up the home. I have a network of trusted vendors, from professional organizers to junk haulers, to do the work for any circumstance. But most importantly, you can trust that I have the patience and perseverance to be with you and guide you every step of the way to move you faster.
David Engel 240-620-4783 dengel@towerhillrealty.com www.movingyoufastertohome.com
Make virtual staging a part of the selling process. Save time, money and get lots of looks online!
Virtual Staging can come into play in several different scenarios. A vacant home can definitely benefit from being staged. Additionally, if a home is vacant and not updated, Virtual Renovation may also be needed. Virtual renovation can be utilized with or without furniture being removed. It is a much more time consuming task, but the end result is more showings. If your home is ready for sale in the Fall or Winter, a Virtual Springtime may be just the thing to show off the beautiful garden, green grass or sunny sky. According to the National Association of Realtors, 90% of home buyers now search for homes online. On average, potential buyers only look at a listing for three seconds while browsing, before deciding to click on it for details. This makes the exterior picture of the listing the most important asset that the agent has to make those three seconds count and draw the buyers in.
To see the before and after photos of my most recent Virtual Staging project, take a look at this facebook page @9400ColumbiaBlvd.
Finding it difficult to get out and see homes for sale or rent?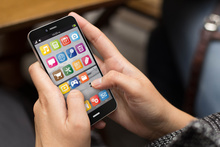 I often find that scheduling to see homes gets in the way of my clients' daily routine. When I am in a consultation, we will discuss your routine to determine the least disruptive way to squeeze in time to see homes. Then I will ask for you to understand three important facts about the market: 1) we are in a sellers' market with less than three months inventory 2) have your financing letter and mortgage approval 3) being first in line with an offer is very important.
I can reference three sale transactions this year where I was able to get my clients' feet in the door first. Our offers arrived first. This timeliness was the difference between moving to a new home vs. being frustrated with the competitive purchase environment and still on the hunt for a home.
Since my job is to know the inventory and homes available, I need to see as many homes as possible in person that might work for you as the client. That is what I do while you are at work. For me that means previewing homes to save you time and energy. If I get to know you well and I can tell a home is not right, then I will let you know. If I preview a home that meets your eight out of ten main criteria for buying, then I will ask that all decision makers clear time to see the home as soon as possible. But what if you are on vacation or have a big work presentation? It is a good thing technology is on our side. As a Realtor, I am definitely celebrating the 10 year anniversary of the iphone. Nothing is changing real estate sales more than apps. We can FaceTime and Skype from anywhere. I can produce a YouTube video, upload it instantly and give you a very realistic sense of a home's features and neighborhood.
My advice is to know what you don't want to buy and know what you must have in a home so that when you see the right home, you are ready to make an offer. Always have your financing in order and most importantly, have your phone charged at all times, so when you get my FaceTime message, you are ready to take a tour.
UNDER CONTRACT! Now what?
Congratulations! You just went under contract. Both parties agreed to all the conditions and terms of the contract. So what happens next? The clock starts ticking on the day the contract is signed. All contingency timeframes are counted from the date of ratification. If you come to terms and sign on Saturday night and you have a 7 day home inspection contingency, then the response to the seller for repairs, concession or withdraw needs to be delivered by the following Saturday. Buyers and Sellers must always take into consideration the day of the week they are negotiating and check calendars for conflicts. Especially for home inspections. It often takes a home inspector 24 hours to provide the comprehensive report on the findings of the inspection. A seller is not required to extend the contingency timeframe due to a buyer's busy work schedule.
Days in the contract are not business days. Every day is counted. Typically, the timeline of events for contract contingencies work in the following order: home inspection, radon inspection, appraisal contingency, and financing contingency. Those are the four big hurdles that are required to be addressed within specific days. Other contingencies could include HOA document review, Condo document review, and often a home sale contingency or other inspections like mold or lead. It is the agent's responsibility to make sure their client complies with the timelines specified in the contract. Agents must coordinate with each other to gain access to the property when needed to meet these deadlines.
While the agents are counting the days, things are happening on both sides of the transaction with the lender and the title company. They are working together to create a closing document that represents the costs of the transaction for the buyer and the proceeds for the seller. The title company is ordering a title search to determine who is the proper owner and provide insurance to the new owner. They are also ordering a survey to determine the proper boundaries of the property. The title company works with the seller to get a list of outstanding liens and payments due prior to ownership transfer. The lender is working with the buyer to verify income and get approval for lending the funds prior to the financing contingency deadline.
There is no denying it takes a lot of work on both sides of the deal getting "Under Contract". But that is only half of the process. Just like winning in a sporting season, take time to celebrate the victory, but know there is an incredible amount of work going from "Contract to Closing". Understanding the roles of the lender, the title company and the agents can be a huge factor to eliminating stress to buyers and sellers. Understanding contract terms, timeframes and contingencies is essential in making sure the deal closes and both parties are happy with the result.
When it's personal...
As a real estate agent, I am, always, everyday, almost every hour, looking at homes for sale and homes sold. It was inevitable that someday I would find a home I want to buy and then face the immediate reality of becoming a home seller. My current home of seven years has now become undesirable to me and my wife. Obsolete, so let's move on.
I am charged with the task of making it very desirable for others in a relatively quick fashion. I have never been a Realtor that says to home sellers, "You must paint, put down new flooring and upgrade the kitchen." I have taken on challenging listings that needed upgrades where there was no money or a limited budget was available to upgrade. In those cases, pricing had to be adjusted downward to reflect the value. In one case, I sold a home with no appliances. It took five months, but the right client came in and was willing to finish an incomplete renovation. The estimated cost to finish the job was $30,000. The buyer accepted a $15,000 seller subsidy which was great for the sellers.

When the funds are available, the recommendation is always to upgrade in order to sell the home quicker even though you know that in many cases only a percentage of the investment will be returned in a higher value. In my situation, my wife and I agreed that we would paint because the pallet of our home was very dark. This included a Mardi Gras purple in the kitchen and family room. In order to choose the proper gray-beige, we tested seven (yes, 7) different Benjamin Williams tester size colors. It would not have been seven except the first six were too blue, green or light. After this project was complete there was a dramatic difference in the quality of the look of the home. I knew that cost was well worth it especially in the difference it would make in the photographs. We also had all the baseboards painted in a white semi gloss and the main level ceiling painted in a flat white.

The next decision was harder and also currently subject to scrutiny since the home has been on the market for 13 days with no offers. Over the years, we have had quotes for hardwood floors of up to $20,000 and new carpet between $8,000 and $12,000. The home is 2500 sq ft and has 40 steps. Flooring is a big and expensive job. It never seemed to me to be worth $12,000 to carpet if the next occupant would prefer hardwood. And we were not going to spend $20,000 on flooring, no way, no how. We did buy $100 worth of vinyl hardwood and had it installed for $250 in the kitchen because the original linoleum was a wreck.

Another way to improve the look of the home for little cost is to de-clutter and de-personalize. I researched portable storage units. I decided on 1-800-packrat. I really liked the phone operator who helped me decide on a 10 x 13 pod which could fit directly behind the 1 car garage without impeding on any neighbors' space and they matched the price of another pod company. I then went on Craig's list and found people giving away boxes that were just emptied from moving. This expedition around the beltway helped cover over 50% of my packing material and box needs. The remainder I got from Lowes. The house was now about to be cleared of family photos, books, chachkies, clothes, memorabilia, files, tools, pots, pans, china, silverware, suitcases, office supplies and everything on every shelf that moves. We dis-assembled some IKEA office furniture in bedroom #2 to open it up a bit and gave it to my daughter for her home. We removed half of the desk in bedroom #3 to open it up a bit. I was able to fit 150 pieces into the pod of which 110 were just boxes of our so-called stuff.

Online photos looked awesome and the house went under contract in 27 days. Due to a home purchase on the horizon, we accepted on offer quicker and for a little less than I wanted. One mortgage is easier to pay than two. However, we made a good deal on the purchase, so it evened out as life sometimes tends to do. The end result was a very quick successful sale and purchase. I doubt this new home will be obsolete soon. So the next purchase may be for investment purposes. Stay tuned...

Most importantly, I had the patience and perseverance to work with my wife and guide us through every step of the way to move us faster.

David Engel 240-620-4783 dengel@towerhillrealty.com www.movingyoufastertohome.com