Part 1 - How to Turn Your Home into a Smart Home
My home is smarter than your home. Not really. But I'm working on it! For the past several weeks, I have watched tons of online comparisons of the various smart products on the market. I have been to Best Buy, Lowe's, Home Depot, and Bed Bath & Beyond to see what inventory is carried locally. I have looked at product web sites and searched Amazon for deals. I finally made my 1st purchase and I'm happy to share my experience with you.
Prior to my 1st purchase, I had many questions and I felt the need to outline what a SMART HOME was to me. And how much does it cost to get smart? Will I be able to make my home more energy efficient and safe? Do I need a hub and voice assistants? And which one: Alexa, Google Home, or Apple Home? How can I get my music louder or softer just by talking to the air? On top of that, can my music play when and what I tell it to play? Can I see on my phone who is at my door and in my backyard? Can I turn on and off the lights in my house when I'm out? Will my thermostat change temps automatically as I head out for vacation or to work? The answer is that there is a lot of technology available now and currently evolving to make any home a smarter home, more energy efficient, and more secure at reasonable costs. As a recent home purchaser, I am taking this one step at a time and I will let you know how smart my home actually gets.
As my first step into purchasing and installing smart products I decided to focus on safety and security. I bought the Ring Video Doorbell Pro for $249 directly from Ring. It comes with a 30 day free subscription which archives all the activity going on that Ring captures. So you can go back and see who was at your door last Tuesday at 6 pm, for example. I have since paid $100 for an annual subscription which includes saving videos taken on multiple Ring devices, the ability to download and share these recordings, and a 10% discount on a subsequent purchase. I used the 10% discount to purchase two floodlights (also with cameras) which I will discuss in a future article.
The doorbell installation was simple but not problem free. I did require a service call to Ring in order to trouble shoot why my old doorbell failed to chime. As far as the basic installation goes, I simply removed the two screws on my current doorbell and disconnected the two wires. I reconnected the wires to the Ring device and then screwed in the Ring over the spot where the old doorbell resided. Ring Pro provides a few shells for the outside. I chose black and then they give you a little screw driver to secure the shell on the device. You need to follow the directions using the app to set up the Ring Doorbell to your home's WiFi. As long as you know the password, that part was easy. Lastly, I needed to open my current doorbell chime and connect a few provided wires to the chime. After a few minutes of installation, I was up and running. However, I was getting a low voltage warning on the app and a low signal strength notice. The signal strength was improved by switching my WiFi network to my second setting that Verizon provided. Solving the low voltage problem required a service call to Ring. It turned out that the low voltage was the cause of having no doorbell chime.
The customer service provided by RIng was good, although, I often get frustrated talking to non-U.S. service technicians. I held my frustration in check and powered through the trouble shooting exercise. If you have a doorbell now, you most likely have a little transformer device connected to your electrical panel. This device powers your doorbell chime. If it is not located at the panel, you will need to trace wires from your doorbell chime to find the transformer. My transformer was only providing 10VA and Ring requires at least 16VA to 24VA. I went to the doorbell section at Lowes and they had only one transformer so I grabbed it. I brought it home, replaced the old transformer with the help of YouTube (https://www.youtube.com/watch?v=QEFHY5tkWHU), and bingo! I now have the chime working. Note that Ring does sell a chime that you can place on an electrical outlet if you do not have a doorbell or want to place the chime somewhere else than where it is currently without the transformer hassle. They also have a version of the chime that extends the WiFi signal.
What do I dislike about the Ring Pro? The visual range downward does not allow you to see what is at your doorstep. You can see the UPS girl with the package knock on your door and see her leaving without it. But you cannot see directly down to your door mat. The other current dislike is the slight delay when a live situation is announced and you want to have a conversation from your phone to the person at the door.
What do I like about the Ring Pro? I like that I could install it myself. The video quality is very good. It still acts as a regular door bell. The range of view east to west is very large. You can narrow and expand the area for visual activation very easily. If you want to be notified when someone encroaches on the driveway area you can set that up easily. There is a very cool neighborhood setting that allows you to share videos of sketchy people you catch stealing packages or presenting scamming deals to you at the front door. You can set the neighborhood radius to as small as you want or you can include your entire zip code. And the Ring app is great.
Overall, I think the Ring Video Doorbell Pro is smart and my family has come to depend on it. We like knowing when a package is delivered and when someone has been near the front of our house. My next article will either be about the Ring Spot Lights or Samsung Smart Things. As of now, I am not sure which will be installed first. Either way, it is fun stuff. Let me know if you have any questions. Come by and say hello anytime. I will be watching!
Smart Home, Part 2 – Seeing My Outdoor Security in a Whole New Light
In order to increase my security perimeter around the home and provide a good lighting source, purchasing the Ring floodlight cams seemed like a good second step in making my home smarter. Using my 10% discount from Ring for ordering the 1 year video capture service and using the group discount from Ring for ordering 2 floodlights, I saved $100 on the purchase.
For the first placement, I replaced the broken floodlight on my garage in the front yard. The coverage is somewhat duplicated from the doorbell, but with the Ring app, I can easily control the visual coverage without too much overlap. I then installed the second unit in my backyard.
Even though the electrical junction boxes were present in both locations, I hired a licensed electrician to install the floodlights. I wanted to make sure this was done properly and I'm glad I went this route. The junction box in the garage area was cut into the soffit and would not make for a good spot to hang the light. T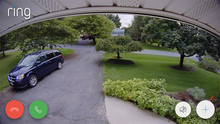 he electrician sent me to Lowes to pick up a round junction box that would fit the Ring device. It was around $6 for a plastic version and worked just fine to place the lights on the side of the house under the soffit. Other than that, the wiring is a simple replacement from the existing wiring. It should take 15 to 30 minutes to install each floodlight. If I needed to install another device and if the wiring was easily accessible, I would do it myself.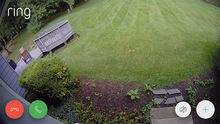 With the power turned back on, the Ring starts talking and instructs you to use the phone app to set up the floodlight and link it to your account. The app takes you to your "settings" to connect the Ring to your wifi and then goes back to the Ring app. From the app, you can adjust the motion settings and the light settings. The floodlights are added to the dashboard of the Ring app, so you only have one control panel showing each device. The range of options are good. The live view is available from the control panel and it is recorded if you pay for the extra service.
The devices are attractive. They come in both black and white. I choose white. They are easy to install. The led lights are powerful. The video quality is excellent. The length and width of visual range is excellent. Because it is on a swivel base, you can direct the camera a little lower than the doorbell. The lights are also on individual swivels. As you decide where to place the device, understand that the further from your router, the more the device will be challenged with the wifi signal. It has a siren feature that is manually activated from the app. It is loud enough to startle a perpetrator and alert the neighbors. I am very happy with my decision and would recommend the Ring products. Having done much research on smart home features and products, I may not be any smarter, but my home surely is!
Smart Home - Part Three - The Hub pulls it all together and spins the web of control
I want to improve my home IQ. But, how to do it, what to buy, how much to spend and in what order is the question?
Daunting questions to answer, to say the least. Searching online I have found a treasure trove of products to buy. I also found that Best Buy has a very good section and selection in their stores on Smart Home products if you feel more comfortable buying in-person. In just a few short months, I have dramatically driven up the IQ of my home. My method and purchase order has been somewhat random. I intended initially to be strategic and linear in my purchase decisions. The starting point was going to be security related devices. Quickly I realized due to the ease of purchase and ease of installation there was not going to be a category by category sequence to the plan. However, following the original security first plan, I installed the Ring Doorbell Pro and two Ring Floodlights. With those Ring purchases, I added on the Ring data storage plan. The Ring purchases are documented in the articles above. I purchased Ring directly from the Ring website. Although Ring works very well and independently with its own app, I also added Ring as a device on my SmartThings Hub. And in addition, I added Ring to the circle of devices interacting with IFTTT.
SmartThings and IFTTT
One of the smartest things you can do now and for free is start using IFTTT. IFTTT is an app and is an acronym for "if this, then that". IFTTT presents a maze of functions that can be utilized to enhance smart home intelligence. The application works by identifying change that occurs within other applications and then signaling a third program to act on that change. IFTTT calls them recipes. Two good recipes I use are: 1) An email notification is sent to me when I leave the house to make sure the garage door is closed and 2) At 10 pm every evening, IFTTT sends a message to the SmartThings hub to lock the front door - then it sends a signal to my Kwikset smart lock to make sure the door is locked. Immediately, I get a notification that the door was already locked or that the door is being locked now.
How can that happen?
The brains of my smart home operation is a SmartThings hub. A hub should be one of the first purchases in the cycle since without a brain, you cannot be smart. The
SmartThings hub is an $80 purchase as a stand alone device, but it makes sense to spend $200 to get a kit with a bunch of fun sensors added in. As with all these smart devices, there are many manufacturers and products to choose from. I chose SmartThings as my hub, which is made by Samsung, because it seems to have a good array of products that it links up with seamlessly. As you add smart home devices, you want to make sure your hub recognizes the device so you can do smart things. The SmartThings hub attaches by ethernet cable to your router. The SmartThings phone app is an easy installation and also allows you the ability to log in on a desktop computer to your account. The reason IFTTT can send me a message when I leave the house is that my iphone is recognized in Smartthings. Smartthings breaks down your home into "Things" (like a motion sensor or door lock or Ring door bell), "Rooms" (so you can create actions in a room like turning off the lights when there is no motion), and "Family" (so you can identify groups of people to trigger actions).
Initially, I have focused on programming Smartthings based on the "Things" or devices I have purchased. For each "Thing" or device, you can program what happens with the
device based on a trigger. I purchased a Kwikset 914TRLZW ($165 from Amazon) for the front door. Smartthings recognizes that device as a "Thing". Although Kwikset works with SmartThings, I still needed to download a third party software application to SmartThings to give me the ability to easily add codes to the lock and assign them a name. So when someone opens my door using code 1234, I know that my handyman unlocked the door. I can just as easily delete that code so he cannot enter using 1234 tomorrow. Using IFTTT with the Kwikset lock, a message is sent through Smartthings at 10pm every evening to make sure the lock is locked and I get a message that the task is complete even if the door was already locked.
To make the garage notification fully functional I added one more device. I purchased a GoControl garage door kit for $82 (Amazon). It comes with a sensor and a remote control device. The device runs off of Z-Wave which makes it compatible with SmartThings. The status of the garage door being open or closed is on my SamrtThings dashboard. When I get the IFTTT message to make sure my garage door is closed, I can check the dashboard and remotely close the garage door. I also have my iphone connected to the app so that when I leave the area, the garage door will automatically close and when I arrive in the neighborhood, the garage door will open.
These are just a few of my new techno gadgets making for a much smarter house. I will discuss some more recently added devices including the SmartThings sensors and Google Home in my next article. Until then, let me know if these articles have inspired you to dive into Smart Home technology. I am interested in what you have done to improve your home IQ.
Smart Home - Part Four - I know at least one person is listening to me.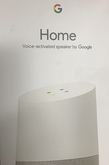 Hey Google! turn on the kitchen lights. Hey Google! how long will it take to get to the office? Okay Google! play Moana on Netflix. Hey Google! turn the kitchen counter lights to 50%. Hey Google! turn the temperature up 3 degrees. Hey Google! how long do I cook a turkey? The Google Home can answer all these questions and perform these commands asked plus so much more. The Google Home is affordable and at Best Buy it is $129. Since I purchased mine, the Google Home mini ($49) has started delivering. The Google Home Max ($399) will be coming out soon. The big difference between the three will be the quality of the speakers. Having no home stereo for the last ten years or so, I am very happy to tell Google to play Springsteen on Pandora! The response is "ok check out this Springsteen radio mix on Pandora". As a U2 fan, I find this the most challenging music mix to play. Most often I get a response like, "I cannot find "jiberish" on Youtube". For just about anything else that you can type into a Google search, you can ask Google Home and you will hear the text from that search. The device is compact at 5 1/2 inches tall and weighing in around 1 pound. It does require an power outlet. I find its range of hearing impressive. I can be at the other end of my home and say a comand loudly and Google Home will hear me. Although, in a large house, I would probably use the Google mini strategically placed to avoid having to shout.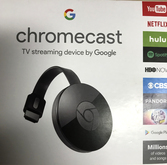 In order to use voice commands to watch video, you need a Google chromecast ($35 at Best Buy). You can watch movies on Netflix, HBO Now (with subscriptions), videos on YouTube or listen to Pandora and Spotify. All you need to do is use the Hey Google or OK Google command with your request to watch an NFL game, for example, on YouTube on the designated screen and Google Home will find the show and play. The Google chromecast app can be added to your phone and your desktop Chrome browser in order to cast anything you want that is visible on those devices. So if you want to show photos or movies, use the chromecast app to cast on any screen that has a chromecast connected to it.
Integration
The Google Home works with the Smartthings app (see the above articles). I have installed several GE Z Wave (Zigbee works also with Smartthings) smart switches to replace regular on/off switches. In the kitchen, I have dimmers installed. Smartthings is the device that connects the home to my other smart devices such as the lighting controls and my Nest thermostat. What Google Home will not do is open my Kwikset door lock or open the garage which is good from a security standpoint. Google now supports Ring, so I will report later if I can ask Google Home who is at the door and have that cast on my designated screen. Google Home can shop. Google Home can make phone calls. There is a lot Google Home can do for you. Just go and buy one and have some fun with your voice activated smart home.